Landon and his wife Diane lead seminars and workshops internationally and on their organic farm in Northern California.
Personal Development – Yoga Teacher Training in Bali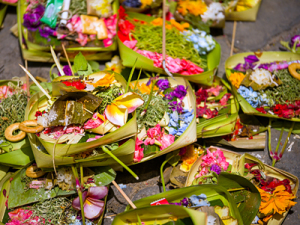 Landon will be leading the Personal development portion of a 28-day Yoga Teacher Training in Ubud, Bali, October 11th-November 8th, 2015. Students will not only receive 300 hours of Yoga Teacher Training, but will also transform their experience of life, love, and relationships.
The training, held in a beautiful resort setting, features Living Food Gourmet raw food. For all the details, go to Radiantly Alive's website. Landon and Diane will be covering their favorite topic, Relationships! Diane will also be working with students doing Clearing, Coaching, and Creative Writing, when time allows. So come and join them for a transformative and life-changing time in Bali!
If you've worked with Landon before in est or the Six-Day training, you know how powerful he is as a trainer. With
Bali
, called the 'Island of the Gods', delicious, organic, raw food, and yoga added on,
how can you miss this?
---
The Foundations of Mastery Course
We all wish to become a more evolved human being, more powerful in our ability to create the reality we want and more loving and connected to others.

Who doesn't want to have a life that is more filled with happiness, love, health and full self-expression? While becoming an enlightened master may be an elusive goal, putting in place the foundations for that journey are not. This 2 ½ day course with Landon will allow you to lay those foundation blocks so that having the life you desire becomes a reality and not a pipe dream.
The building blocks for this life journey are:
• non-resistance
• non-reactivity
• non-judgment
• non-attachment
Each of these aspects of everyday life is at the very core of most of life's unhappiness and unworkability. Freeing yourself from the tyranny of these all too human aspects creates the foundation for the life of your dreams.
Join Landon for this challenging and life changing workshop. For more information please call Landon's cell 415-250-3585 or email landon@landoncarter.co.nz.
---
The Awakened Relationship Course
Living the dream of love, true connection and the bliss of deep intimacy
Whether you are in a long-term relationship or looking for love, this weekend workshop will open your heart and your mind and give you the skills to create the relationship you have longed for. Landon and Diane share decades of experience working in various fields of transformation and now focus their knowledge and first hand experience into helping you to transform your experience of relationship and love.
Promises of 'The Awakened Relationship' weekend seminar:
• Learn to communicate in a way that eliminates blame and creates deeper love and understanding.
• Fully understand the structure of the ego and what it means to "Be Human" so that you can manage it to create more authenticity and self-expression.
• Learn how to talk about any subject without arguing.
• Bring more Beingness into your relationship and with it a deeper connection and more passion.
• Learn to establish the agreements within your own relationship, to transform problems and upsets into opportunities for healing, growth and deeper intimacy.
• Gain power over your own mind and ego by strengthening the "Observer Self."As part of learning and practicing these new ways of interacting, there will be opportunities to be coached in your specific issues. For those not currently in a relationship, we will discuss some of the secrets of attracting and manifesting your true partner. These secrets hold true for manifesting anything desired in life.
For more information please call Landon's cell 415-250-3585 or email landon@landoncarter.co.nz.